As seen in: Tourism Winnipeg – RBC Convention Centre Winnipeg Special Report
RBC Convention Centre Winnipeg - Ready when you are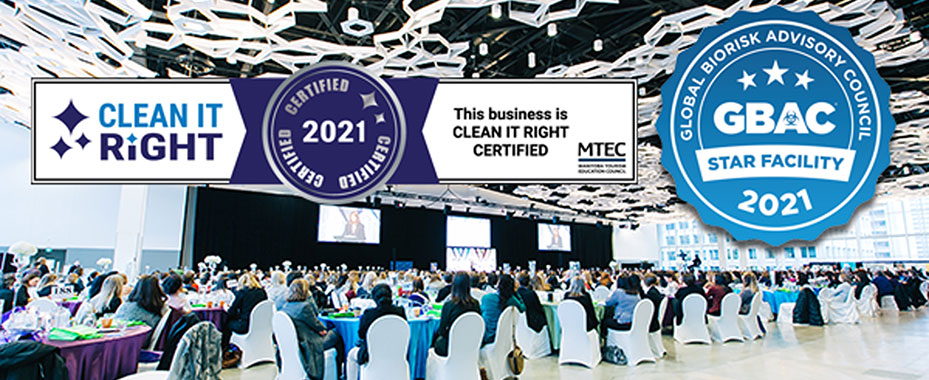 Tourism Winnipeg is working with the RBC Convention Centre Winnipeg to welcome meetings back to our city. See below for a special message from their team, on the future of meetings and events in Winnipeg.

If there's one thing this global pandemic has reminded us of, it's the importance of being prepared.
Like everyone else, when the industry shut down, we paused, took a breath and forged ahead. We realized very early that when it's time to host guests again at RBC Convention Centre Winnipeg, we must be prepared. Our teams must be ready to assist clients with planning events in a post-pandemic environment and we must continually focus on the highest level of health and safety standards. Ensuring our clients feel comfortable and confident returning to our centre has always been paramount.
Gold-standard accreditation
Under the guidance of the Global Biorisk Advisory Council (GBAC), RBC Convention Centre Winnipeg was one of the first facilities in the province to receive our GBAC STAR facility accreditation—the gold standard for clean and safe facilities.
This industry accreditation focuses on ensuring a clean, safe and healthy environment with best practices, protocols and procedures in place to control risk factors associated with infectious disease.
In addition to GBAC, we also joined more than 200 other Manitoba businesses and received our Clean It Right certification. The Manitoba Tourism Education Council's (MTEC) enhanced education and awareness program on cleaning requires employees to be tested on their course knowledge and must train their cleaning staff in order to gain this recognition. The MTEC program has been adopted by many provinces in Canada as the training standard for adaptive cleaning processes.
Our facility cleaning protocols are led by our BeeClean team that also achieved their Cleaning Industry Management Standard (CIMS) certification. CIMS is designed to assist cleaning organizations in developing an operational system that improves cleanliness outcomes by following the proper use of disinfection products with the stringent manufacturer procedures for proper use.
Read more about the safety standards.
Certified and ready to help
Members of our event and sales teams have achieved their Digital Event Strategist (DES) certification. Facilitated through the Professional Convention Management Association (PCMA), we are committed and qualified to effectively plan, produce and measure results for all digital engagement practices, which will assist clients with the planning of hybrid conferences and events.
Through the Event Leadership Institute and Meeting Professionals International (MPI), two of our event coordinators have received their Pandemic Meeting and Event Design certificates and nine of our on-site management team have completed their pandemic on-site protocol training. These new courses cover everything from risk management to venue protocols; contract clauses to user experiences and everything in between. Our teams are prepared with the knowledge necessary to monitor and maintain a safe environment for all.
Practice makes perfect
We have been fortunate to be the host facility for the Manitoba government's first vaccine super-site. Although our building has not been open and operating as "business as usual," we have been able to put our safety practices and cleaning protocols to the test. Over the last several months, there have been thousands of people through our doors; we've demonstrated our ability to deliver and offer a clean and healthy environment that is safe for business. The health and safety of our staff, guests, clients and visitors has always been, and will continue to be, our number one priority.
We look forward to the day, in the very near future, when our doors will be opening wide and we can get back to creating memorable events and providing the expectational service that our clients have come to expect. We're ready and will see you soon!
---
via: Tourism Winnipeg
Clean It Right in the News